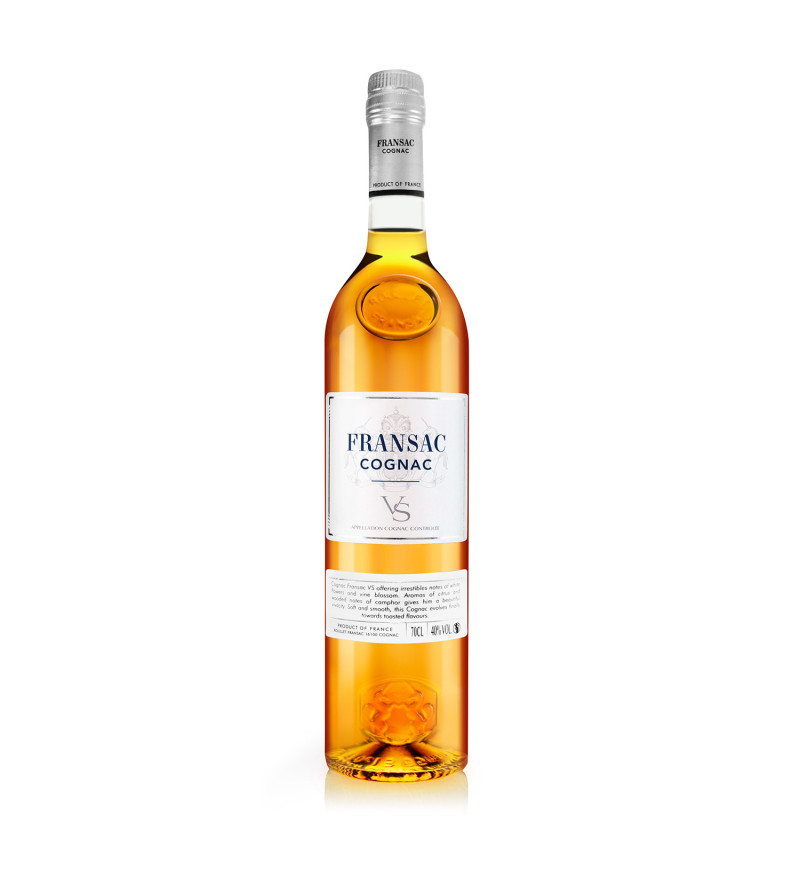  
COGNAC FRANSAC VS
VS Fransac Cognac - New Edition. 70 cl.
A VS cognac born from a blend of eaux-de-vie aged for almost 3 years in oak barrels.
Aromatic notes: floral notes, vine flowers ...
DESCRIPTION
The ROULLET FRANSAC house combines its eaux-de-vie in the region of Cognac, France. Aged in French oak barrels, this V.S. cognac (Very Special) has softened for almost 3 years. Our eaux-de-vie are carefully selected and assembled. In search of elegance and finesse, this new VS cognac quality is more spring-like.


ORIGIN
Founded in 1838 by the ancestors of the ROULLET family, Maison ROULLET-FRANSAC has evolved according to several generations of traders, always selecting the most beautiful eaux-de-vie for its blends. Close to the terroir and respectful of the cognac traditions, the family has always had at heart to work with complex and balanced eaux-de-vie. Do you know: the name V.S. means that the youngest eau-de-vie used in the blend has at least two years aging in oak casks.
Tasting
Light and pleasantly fresh, the Maison ROULLET-FRANSAC Cognac VS is tinged with irresistible floral notes, vine flowers and white flowers. Give it a little more time to reveal its bright citrus aromas and woody camphor tree notes. Supple and smooth, it will evolve to toasty notes at the end of the mouth. You will be surprised by its great freshness. This young Cognac is an excellent base of cocktails. We advise you to consume it in cocktails or lying down with a tonic.
Data sheet COGNAC FRANSAC VS
Container

Bottle

Capacity

70cl

Quality

VS

Alcohol Level

Presentation

Without Gift-Box
You might also like
Cognac Fransac Vieille Réserve 70 cl.
A particularly floral, lively and complex Cognac, resulting from the marriage of eaux-de-vie from the finest wines of the cognac appellation.
Aromatic notes : spices, camphor, toasted ...

XO Fransac Cognac, 70 cl.
A lively and powerful cognac made from a unique blend of brandy eaux-de-vie, the youngest of which is at least 10 years old.
Aromatic notes: vine flower, citrus, ginger ...

Ancestral Reserve Fransac Cognac, 70 cl.
A unique Cognac with beautiful gourmet and floral notes, born from a blend of our finest eaux-de-vie.
Aromatic notes: peaches, prunes, orange blossom ...
Reviews
COGNAC FRANSAC VS
The ROULLET-FRANSAC cognac internationally :  conhaque, konjak, coñac, konjakki, konyak, coinneac, konjaks, konjakas, konjakk, koniak, coniac, koňak