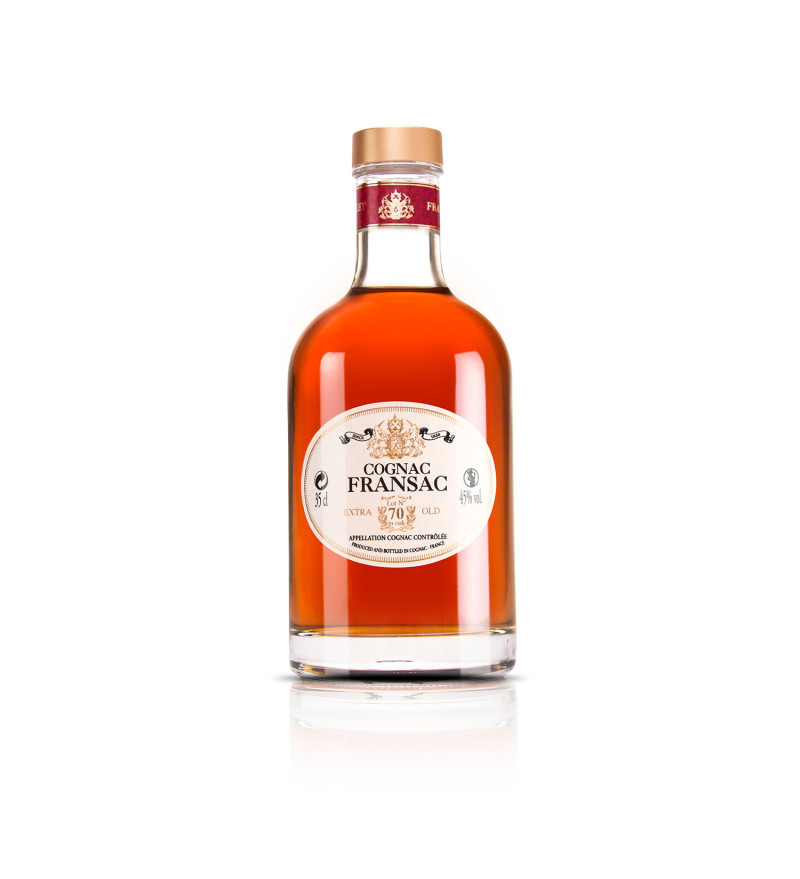  
COGNAC FRANSAC HORS D'AGE 20cl - 35cl
COGNAC FRANSAC OUT OF AGE 20 cl or 35 cl
The oldest cognac of Maison ROULLET FRANSAC with balanced and complex perfumes peacefully sleeping in our cellars for decades. Aromatic notes: dried fig, tobacco, old leather ...

delivered with its wooden box
DESCRIPTION
The old-fashioned cognac of the Maison ROULLET FRANSAC is an assemblage of our best reserves from the most beautiful hillsides of the Fins Bois, Bon Bois and Petite Champagne wines where expresses peacefully our unique Ugni Blanc grape variety. Their white wines gave birth, after a double distillation in Charentais pot stills with eaux-de-vie of a great quality and unequaled character. Each of the eaux-de-vie selected for this unique wedding has seen the birth of several generations of Chai Masters before being revealed to you. It is in our cool and humid cellars that time has patiently accomplished its work. Treat yourself to the exquisite pleasure of tasting the elegance and subtlety of our oldest cognac.
ORIGIN
Maison ROULLET-FRANSAC raises and assembles cognacs for several generations according to the same methods and the same process initiated by the ROULLET family. Located in Cognac, our house is located in a former mansion of 1760, near the old Cognac, upstream of the port of Charente.
Tasting
Beautifully aged Cognac, with an amber color and shimmering golden highlights, releases balanced, complex aromas of dried fig, mushroom , tobacco, old leather and nuts. Real treasure, its flexibility and its delicacy in mouth will surprise your taste buds. Its inimitable softness is matched only by its incredible depth. Take the time to discover its many flavors.
Our Maître de Chai recommends you to taste this fine blend at the end of a dinner, preferably in a tulip glass, to fully appreciate all its subtleties .
Data sheet COGNAC FRANSAC HORS D'AGE 20cl - 35cl
Container

Bottle

Capacity

20cl - 35cl

Quality

XO

Alcohol Level

Presentation

Wooden Gift-Box
You might also like
Hors d'Age Fransac Cognac,70 cl.
Our age-old cognac comes from a beautiful and rich alliance between our best reserves from the "Fins Bois", "Bon Bois" and "Petite Champagne" vintages.
Aromatic notes: dried fig, mushrooms, nuts ...

Comes in a wooden box (mahogany color) strong>

Cognac Fransac VSOP Inheritance. 20 or 35 cl.
A Legacy V.S.O.P. cognac, born from a blend of eaux-de-vie aged in oak barrels.
Aromatic notes: vanilla, undergrowth, white peach ...

Cognac Fransac Ancestral Reserve. 20 or 35 cl.
A unique Cognac with beautiful gourmet and floral notes, born from an assemblage of our finest eaux-de-vie.
Aromatic notes: peaches, prunes, fleur de ' orange ...
Reviews
COGNAC FRANSAC HORS D'AGE 20cl - 35cl
No customer reviews for the moment.
The ROULLET-FRANSAC cognac internationally :  conhaque, konjak, coñac, konjakki, konyak, coinneac, konjaks, konjakas, konjakk, koniak, coniac, koňak