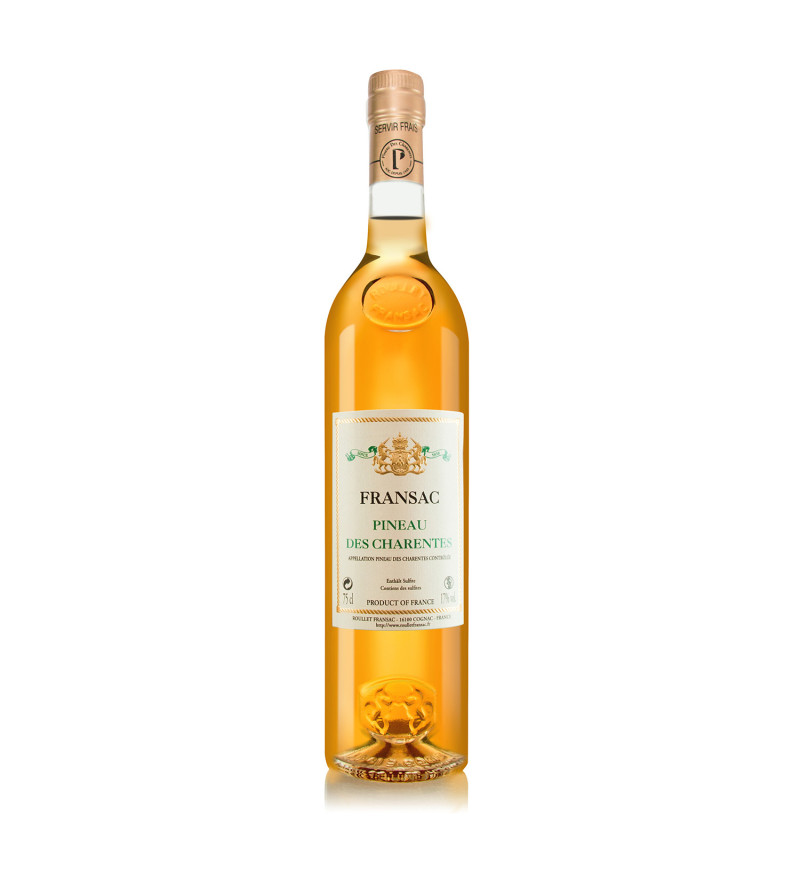  
Fransac White Pineau
Excellent aperitif, Old FRANSAC Pineau des Charentes , 75cl. Resulting from the exceptional marriage of our best grape varieties, most of which are montils, and cognac eau-de-vie from petite champagne. Aging 5 years in oak barrels.
Aromatic notes: floral, elegant, spicy ...
DESCRIPTION
Coming from the marriage of our best fresh grape juice and Cognac brandy specially selected for their aromatic color, our old FRANSAC White Pineau des Charentes is aged during 7 years in French oak barrels. Over time, it patiently acquires a taste harmony combining aromatic complexity, roundness and freshness in the mouth. It comes from the Controlled Origin Certification (Appellation d'origine controlée - AOC), like all our pineaux.

ORIGIN
At its origin, the Pineau des Charentes is consumed locally, but gradually it has become a nationally recognized wine. It shares very close links with Cognac, a renowned eau-de-vie on the international market. The winemakers observe the same traditions and know-how to develop this unique and high-quality liqueur wine. In 1945, the Pineau des Charentes has a real boom in becoming an AOC. From now on, its reputation goes beyond the French borders to export all over the world.
Tasting
This old FRANSAC White Pineau des Charentes is an ideal compromise between maturity and youth. With a beautiful golden yellow robe with gold and amber reflections, its fresh and elegant nose releases aromas of acacia honey, lime blossom and spices. Its harmonious and slightly acidic finish will seduce all palates. Served fresh as an aperitif, it can also accompany a truffled foie gras or a chocolate dessert.
Data sheet Fransac White Pineau
Container

Bottle

Capacity

75 cl

Quality

Pineau

Alcohol Level
Reviews
Fransac White Pineau
No customer reviews for the moment.
The ROULLET-FRANSAC cognac internationally :  conhaque, konjak, coñac, konjakki, konyak, coinneac, konjaks, konjakas, konjakk, koniak, coniac, koňak