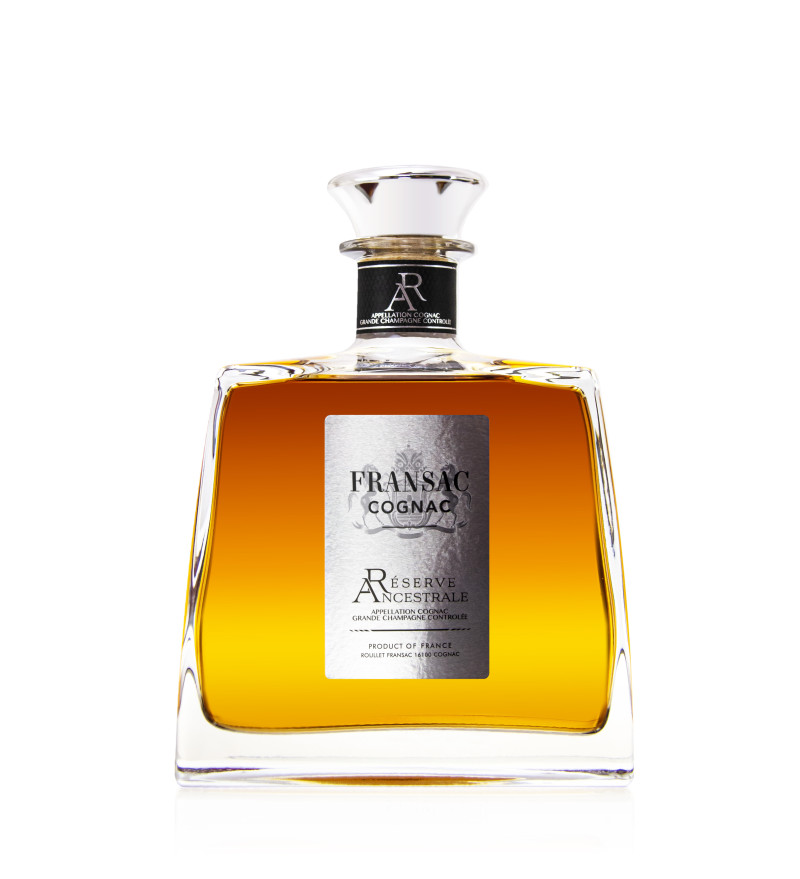  
COGNAC FRANSAC RESERVE ANCESTRALE
Ancestral Reserve Fransac Cognac. 70 cl.
Cognac of great complexity, the fruit of a refined marriage of eaux-de-vie from the prestigious "Grande Champagne" vintage and aged for more than 25 years.
Aromatic notes: peaches , prunes, orange blossom ...

Comes with wooden case
DESCRIPTION
The ANCESTRAL RESERVE of the Maison ROULLET FRANSAC is a blend of exceptional cognac eaux-de-vie. Of great complexity, this cognac will deliver a range of exquisite aromatic sensations. Made according to the purest Charentaise tradition, this RESERVE ANCESTRALE cognac is the result of an elegant marriage of "Grande Champagne" eaux-de-vie. Raised to perfection for over 25 years in old Limousin oak barrels, the RESERVE ANCESTRALE is of a finesse and an incomparable subtlety...
ORIGIN
Founded in 1838 by breeders and passionate about Cognac, Maison ROULLET FRANSAC has always had an attraction and a great respect for the nature of Charente. This RESERVE ANCESTRALE Cognac draws its quintessence from "Grande Champagne". Classified as the 1er Cru of the Cognac appellation, its soft chalky clay-limestone soils are conducive to the development of our vines. This cognac, like the vast majority, is produced from a very specific late variety Ugni Blanc. Low alcoholic and acidic, it has many advantages for the production of distillation wines.
Tasting
Tasting this cognac will seduce you with its soft intensity, its delicate harmony and its length in the mouth. Let yourself be carried away by the complexity of its aromas. At first, enjoy the rich and light palate of its fruity notes composed of peaches, prunes with aromas of orange blossom. Take the time to savor it and soak up your palate. Then, in a second time, a creamy opulence, vanilla "crème anglaise" way, with caramel aromas. We recommend serving this cognac in a glass "tulip" to further appreciate the release of its aromas on the nose.
Data sheet COGNAC FRANSAC RESERVE ANCESTRALE
Container

Carafe

Capacity

70cl

Quality

OUT OF AGE

Alcohol Level

Presentation

Without Gift-Box
You might also like
Very old "Grande Champagne" Fransac Cognac, 70 cl.
A soft and round at the same time, this cognac is exclusively from "Grande Champagne".
Aromatic notes: vanilla, cinnamon, almond ...

Delivered with its wooden case (mahogany color)

Hors d'Age Fransac Cognac,70 cl.
Our age-old cognac comes from a beautiful and rich alliance between our best reserves from the "Fins Bois", "Bon Bois" and "Petite Champagne" vintages.
Aromatic notes: dried fig, mushrooms, nuts ...

Comes in a wooden box (mahogany color) strong>

Cognac Fransac Ancestral Reserve. 20 or 35 cl.
A unique Cognac with beautiful gourmet and floral notes, born from an assemblage of our finest eaux-de-vie.
Aromatic notes: peaches, prunes, fleur de ' orange ...
Reviews
COGNAC FRANSAC RESERVE ANCESTRALE
No customer reviews for the moment.