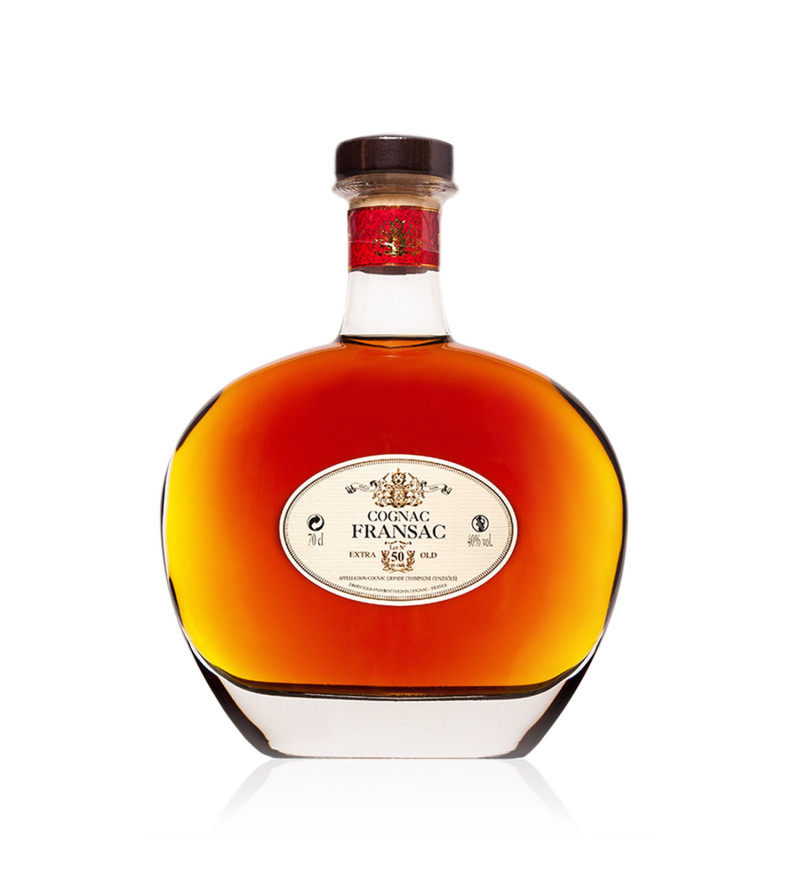  
TRÈS VIEUX COGNAC FRANSAC Grande Champagne
Very old "Grande Champagne" Fransac Cognac, 70 cl.
A soft and round at the same time, this cognac is exclusively from "Grande Champagne".
Aromatic notes: vanilla, cinnamon, almond ...

Delivered with its wooden case (mahogany color)
DESCRIPTION
This very old "Grande Champagne" Fransac cognac characterizes all the know-how of the ROULLET FRANSAC House. It is the result of a blend of very old eaux-de-vie exclusively from the Grande Champagne terroir. By nature, this renowned wine gives birth to very fine and light eaux-de-vie, with a predominantly floral bouquet. These eaux-de-vie have aged for many years in oak casks to reach their full maturity. This is the case of this very old cognac which has waited a long time in our most prestigious cellars before giving you its secrets.
ORIGIN
Located in Cognac, in a few steps from the King Francis I of France's Castle, the ROULLET FRANSAC House has been raising cognacs for several generations. Our cognacs from "Fine Champagne" benefit from an exceptional terroir. The clay-limestone soils of this vintage are known to produce fine and very light eaux-de-vie, with a predominantly floral bouquet.
Tasting
Fluffy and round at the same time, this very old brandy will appeal to you with its Rancio Charentais characteristics. Its intense golden color with amber highlights exudes notes of vanilla, cinnamon and almond, supported by candied and spicy aromas. To reveal the many facets of this cognac, our Cellar Master suggests you use a tulip glass to savor the subtlety of its aromas. This type of glass has the advantage of retaining the flavors and release them gradually with great delicacy. To optimize its tasting, we advise you to ensure that the cognac serving temperature is at room temperature.
Data sheet TRÈS VIEUX COGNAC FRANSAC Grande Champagne
Container

Carafe

Capacity

70cl

Quality

OUT OF AGE

Alcohol Level

Presentation

Wooden Gift-Box
You might also like
Ancestral Reserve Fransac Cognac. 70 cl.
Cognac of great complexity, the fruit of a refined marriage of eaux-de-vie from the prestigious "Grande Champagne" vintage and aged for more than 25 years.
Aromatic notes: peaches , prunes, orange blossom ...

Comes with wooden case

Hors d'Age Fransac Cognac,70 cl.
Our age-old cognac comes from a beautiful and rich alliance between our best reserves from the "Fins Bois", "Bon Bois" and "Petite Champagne" vintages.
Aromatic notes: dried fig, mushrooms, nuts ...

Comes in a wooden box (mahogany color) strong>

COGNAC FRANSAC OUT OF AGE 20 cl or 35 cl
The oldest cognac of Maison ROULLET FRANSAC with balanced and complex perfumes peacefully sleeping in our cellars for decades. Aromatic notes: dried fig, tobacco, old leather ...

delivered with its wooden box

Very old Grande Champagne Fransac Cognac, 20 or 35 cl.
A soft and round cognac exclusively from the Grande Champagne.
Aromatic notes: vanilla, cinnamon, almond ...

Comes with a wooden case (mahogany color)
Reviews
TRÈS VIEUX COGNAC FRANSAC Grande Champagne
The ROULLET-FRANSAC cognac internationally :  conhaque, konjak, coñac, konjakki, konyak, coinneac, konjaks, konjakas, konjakk, koniak, coniac, koňak