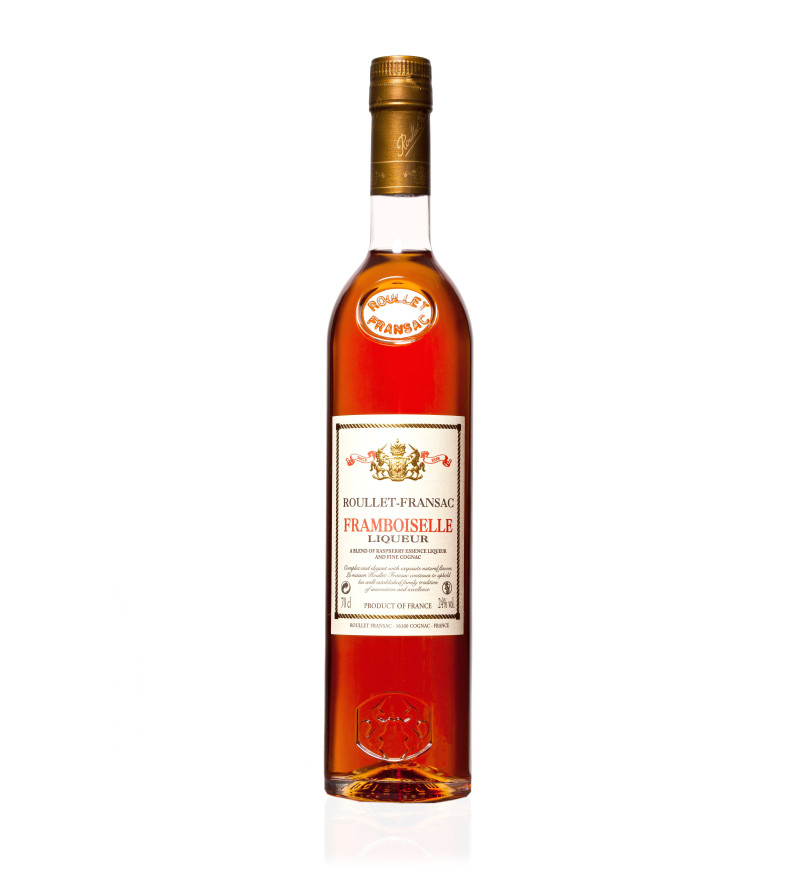  
ROULLET FRANSAC raspberry flavored cognac liquor
La Framboiselle, Raspberry Liqueur FRANSAC ROULLET with Cognac, 70cl.
Liquor obtained by infusion of fresh raspberries in a selection of Cognac of at least 2 years of age.
Aromatic notes: greedy, fresh fruit, ripe raspberry ...
DESCRIPTION
Made in France in the heart of the Charente, our ROULLET FRANSAC Raspberry flavored cognac liqueur will surprise you with its powerful aroma and captivating scent. The berries of our raspberries are freshly pressed and then infused a few weeks with our "Cognac eau de vie". During this period, our liquorist master ensures that the liquor blooms and gradually delivers its unique, rich and delicious aromas.
ORIGIN
As a liqueur of fruit, the raspberry is part of these successful monastic liqueurs. They are traditionally less alcoholic than spirits (15 to 20% volume), sweeter and consumed in France especially with white wine or sparkling wine.
Tasting
This ROULLET FRANSAC Raspberry liqueur sparkles with its bright colors and multiple ruby highlights. Its aromas of ripe raspberries, sweet and smooth, make it a generous and gourmet eau-de-vie. Enjoy its finesse and fruity simply on crushed ice or cocktail: "Champagne à la Framboiselle". It will also lend itself to integrating your culinary preparations like raspberry soufflé. Its gourmet and sweet side, will give you the impression of eating fresh raspberries.
Data sheet ROULLET FRANSAC raspberry flavored cognac liquor
Container

Bottle

Capacity

70cl

Alcohol Level
You might also like
ROULLET FRANSAC Chocolate Flavored Cognac Liqueur, 70cl.
Perfect harmony intense and balanced, with gourmand notes.
Aromatic notes: roundness, chocolate ...

"Bauchant" Orange liqueur with Cognac ROULLET FRANSAC, 70cl.
Result of the perfect blend of orange extracts from the island of Curacao and Cognac.
Aromatic note: floral, orange peel, honeysuckle ...
Reviews
ROULLET FRANSAC raspberry flavored cognac liquor
The ROULLET-FRANSAC cognac internationally :  conhaque, konjak, coñac, konjakki, konyak, coinneac, konjaks, konjakas, konjakk, koniak, coniac, koňak