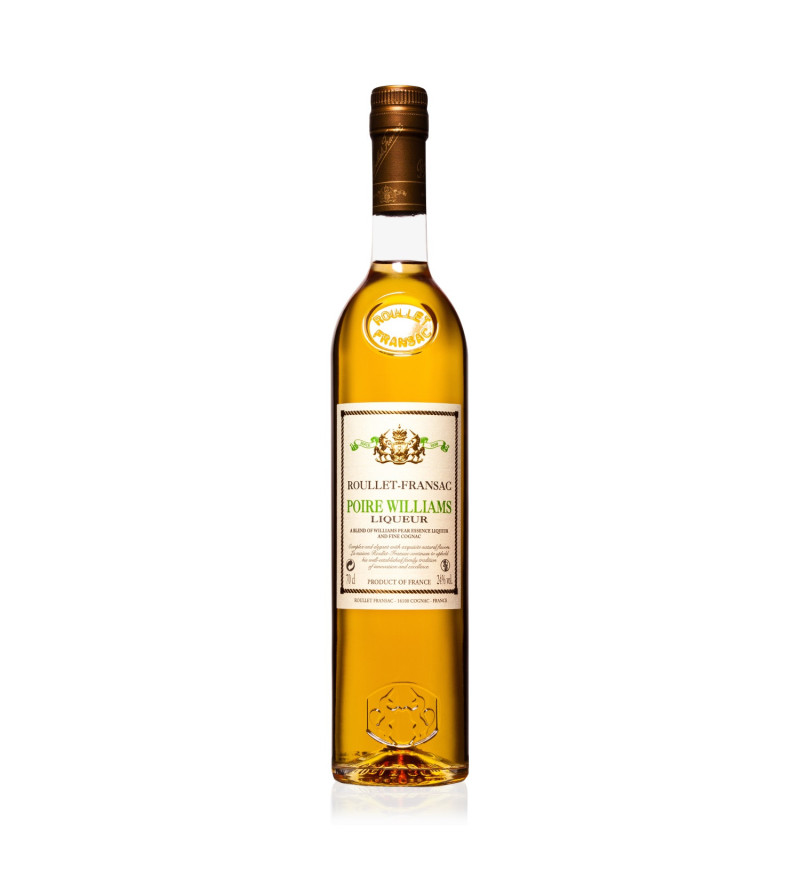  
ROULLET FRANSAC pear flavored cognac liquor
ROULLET FRANSAC Pear liqueur with Cognac, 70cl.
Elaborated by a slow distillation of Williams pears from French orchards.
Aromatic note: sweet, fruity, pear ...
DESCRIPTION
For this ROULLET FRANSAC Pear Liqueur, we have selected the Williams Pear. A non-granular white flesh fruit, sweetened with a hint of acidity. Recognized for its great aromatic richness, this variety gives a fresh and intense pear liqueur. Our Maître liquoriste ensures the quality of the production by a drastic selection of the best fruits of the variety.
ORIGIN
The first liquors appear after the arrival of the still in the West and the discovery of brandy by the alchemists. Fruit liqueurs produced by distillation appear officially as early as the 16th century. It will be necessary to wait nineteenth for those produced by maceration.
Tasting
Slightly amber, this pear liqueur ROULLET FRANSAC remains sweet and fruity, while taking again the characteristics of the pear and a subtle note vanilla. Traditionally, this liqueur is enjoyed as a digestive after a meal, but it can also be enjoyed as an aperitif in different ways, dry on ice or cocktail according to your desires. For the greediest, you can succumb to its frosty freshness by combining it with a pear sorbet.
Data sheet ROULLET FRANSAC pear flavored cognac liquor
Container

Bottle

Capacity

70cl

Alcohol Level

Votre recherche
You might also like
ROULLET FRANSAC Chocolate Flavored Cognac Liqueur, 70cl.
Perfect harmony intense and balanced, with gourmand notes.
Aromatic notes: roundness, chocolate ...

"Bauchant" Orange liqueur with Cognac ROULLET FRANSAC, 70cl.
Result of the perfect blend of orange extracts from the island of Curacao and Cognac.
Aromatic note: floral, orange peel, honeysuckle ...

La Framboiselle, Raspberry Liqueur FRANSAC ROULLET with Cognac, 70cl.
Liquor obtained by infusion of fresh raspberries in a selection of Cognac of at least 2 years of age.
Aromatic notes: greedy, fresh fruit, ripe raspberry ...

ROULLET FRANSAC coffee liqueur with cognac, 70cl.
Perfect fusion between roasted coffee beans and a selection of our Cognac of at least 2 years of age.
Aromatic note: fresh, gourmet, roasted coffee ...
Reviews
ROULLET FRANSAC pear flavored cognac liquor
The ROULLET-FRANSAC cognac internationally :  conhaque, konjak, coñac, konjakki, konyak, coinneac, konjaks, konjakas, konjakk, koniak, coniac, koňak