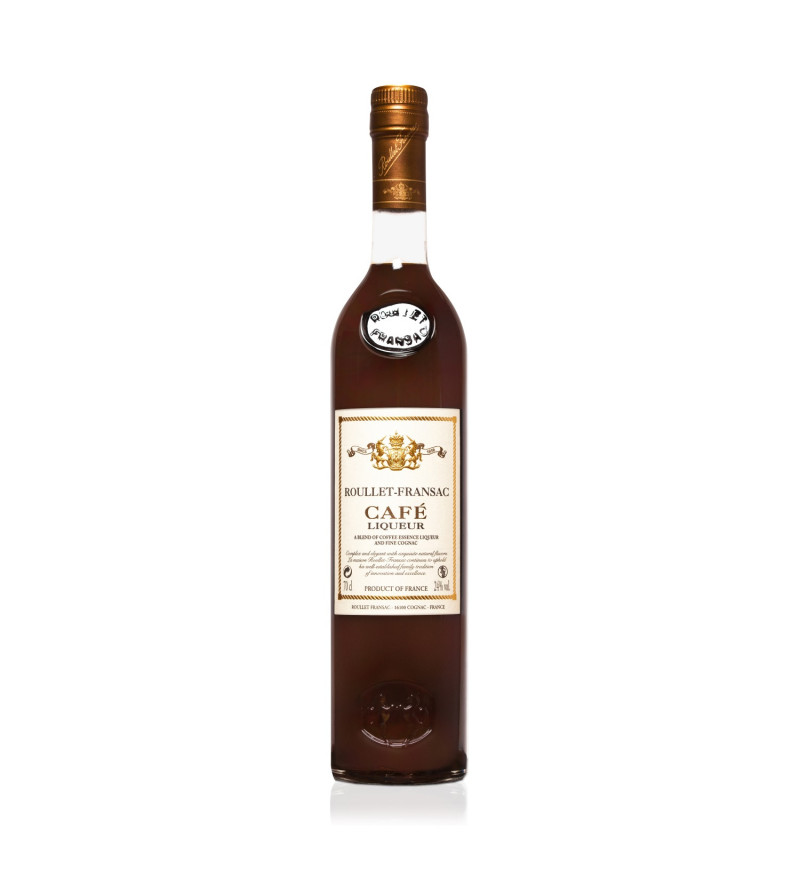  
ROULLET FRANSAC Coffee flavored cognac liquor
ROULLET FRANSAC coffee liqueur with cognac, 70cl.
Perfect fusion between roasted coffee beans and a selection of our Cognac of at least 2 years of age.
Aromatic note: fresh, gourmet, roasted coffee ...
DESCRIPTION
Made according to a traditional recipe, our ROULLET FRANSAC Coffee liqueur reveals the richness and intensity of the roasted coffee beans, carefully selected by our Maître liquoriste. Coffee and Cognac merge in perfect harmony for a tasty moment of pleasure. Its thick texture evokes the creaminess of mocha.
ORIGIN
An exotic and out of the ordinary drink, coffee liqueur appeared in Jamaica during the 17th century. It then knows a growing success in Europe, particularly in Galicia where it gradually becomes a traditional spirit drink of the region.
Tasting
Fragrant and delicate, our coffee liqueur is simply unveiled in a brandy glass with ice cubes or alone. Succumb to a moment of gluttony by topping it with a cloud of cream or a few drops of vanilla syrup. This generous and specific recipe to Maison ROULLET FRANSAC will perfectly complement your frozen desserts, pastry (tiramisu, crème brûlée) and cocktails (Blue Mountain, White Russian, After Midnight). The only limit of its use is your imagination. To keep your coffee liquor, remember to keep it cool. After opening, you can consume it over several months, or even a year.
Data sheet ROULLET FRANSAC Coffee flavored cognac liquor
Container

Bottle

Capacity

70cl

Alcohol Level
You might also like
ROULLET FRANSAC Chocolate Flavored Cognac Liqueur, 70cl.
Perfect harmony intense and balanced, with gourmand notes.
Aromatic notes: roundness, chocolate ...

La Framboiselle, Raspberry Liqueur FRANSAC ROULLET with Cognac, 70cl.
Liquor obtained by infusion of fresh raspberries in a selection of Cognac of at least 2 years of age.
Aromatic notes: greedy, fresh fruit, ripe raspberry ...
Reviews
ROULLET FRANSAC Coffee flavored cognac liquor
The ROULLET-FRANSAC cognac internationally :  conhaque, konjak, coñac, konjakki, konyak, coinneac, konjaks, konjakas, konjakk, koniak, coniac, koňak